Independence Day is swiftly approaching and come Saturday there are sure to be hundreds of barbecues, potlucks, and other such gatherings with family and friends. One big focus of these get-togethers is of course, the food! If you're looking for something fun to create,  these easy, delicious desserts are sure to please even the most patriotic of guests.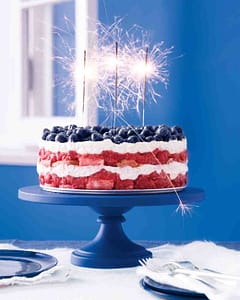 Red, White, and Blueberry Trifle
INGREDIENTS
1 1/2 pounds raspberries (5 cups)
3/4 cup confectioners' sugar
1/4 cup fresh orange juice (from 1 large orange)
10 ounces mascarpone cheese (1 1/3 cups)
1 1/4 cups cold heavy cream
1/2 teaspoon pure vanilla extract
Fine salt
20 to 24 ladyfingers (from a 7-ounce package), broken into 1-inch pieces
3/4 pound blueberries (2 1/2 cups)
DIRECTIONS
In a medium bowl, combine raspberries with 1/4 cup confectioners' sugar and orange juice. With the back of a fork, lightly mash berries to release their juices and let sit 10 minutes. Meanwhile, in a large bowl, stir together mascarpone and 1/2 cup confectioners' sugar until smooth. Whisk in cream, vanilla, and pinch of salt and whisk until soft peaks form, about 4 minutes.
Cut one or two pieces parchment 1 inch taller than side of an 8-inch springform pan and line inside of pan. Place half the ladyfingers in pan and top with half the raspberry mixture. With a small offset or rubber spatula, spread half the whipped cream over berries. Tap pan gently on counter to remove air bubbles. Repeat with remaining ladyfingers, raspberry mixture, and whipped cream.
Top with blueberries and refrigerate until whipped cream is stiff and cookies have softened, about 3 hours (or, tightly covered with plastic, up to 3 days). To serve, unmold trifle and peel away parchment.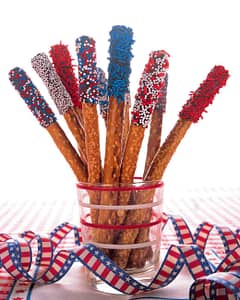 Pretzel Sparklers
Like most sparklers, these are extinguished after a short while — with several large bites. To make two dozen, place 4 ounces chopped semisweet chocolate in a heatproof bowl set over a pan of simmering water. Stir occasionally until melted; remove from heat. Using a pastry brush, coat the upper third of each pretzel rod in chocolate. Cover with sprinkles; stand pretzels upright in a glass. Place in the refrigerator until firm, about 5 minutes.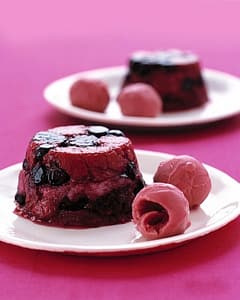 Individual Patriotic Puddings
INGREDIENTS
5 cups mixed fresh berries, such as blackberries, blueberries, and raspberries (about 3 pints)
2 tablespoons fresh lemon juice
1/2 cup sugar
Pinch of salt
18 thin slices white sandwich bread
DIRECTIONS
In a saucepan, cook berries and lemon juice over medium heat until berries release their juices but still hold their shape, about 2 minutes. Stir in sugar and salt; cook until dissolved, 3 to 5 minutes. Strain sauce; reserve whole berries. Let cool.

Line a cupcake tin with plastic wrap, pressing it into cups. Using cookie cutters or an inverted glass, cut out six 2 1/4-inch rounds and twelve 2 3/4-inch rounds from bread.

Pour 1 tablespoon sauce into each cup; add 1 tablespoon berries. Top with smaller bread rounds; add another tablespoon each of sauce and berries. Make another layer of bread, sauce, and berries; top with remaining bread rounds. Press down firmly with the bottom of a glass.

Fold plastic over; cover with a baking sheet. Weight with a heavy skillet. Refrigerate at least 4 hours.

To serve, pull up on plastic wrap, and gently unmold each pudding onto plates; drizzle with sauce.
For other patriotic desserts and sweet treats click here. Happy 4th of July!