It's the small, personal things that tie a room together, and your kitchen is no different. In this final installment of our Dream Kitchen Remodeling Guide, we talk about the last little touches you need to fill the heart of your home.
"Your floor, backsplash, and lighting—these are all items in the design concept, or big picture, of your kitchen design, says Ana Cummings of ANA Interiors.
As a result, none of these things should be selected in isolation. Adds Cummings: "They all need to work harmoniously together with the cabinetry and the appliances, and also hopefully relate to the rest of the home's interior and level of finishing."
Here are the choices that await.
1. Flooring
The potential for moisture and lots of foot traffic in your kitchen calls for a resilient material. (Wall-to-wall carpet is probably not a good idea.)
Here are some options that will stand the test of time:
Wood flooring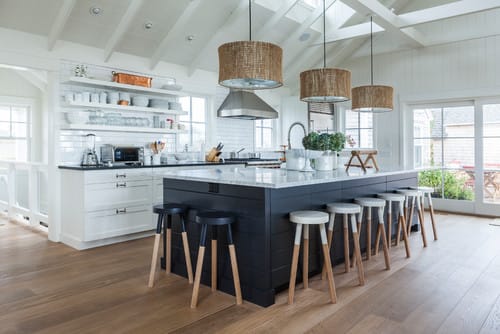 Cost: $8 to $22 a square foot
Pros: Classy, classic, and great for integrating an open kitchen with the rest of your home.
"To help blur the lines between the family room and the open kitchen area, utilize the same flooring material in both spaces," says Carib Daniel Martin, CEO of Markitecture Consulting and a residential architect in the Washington, DC, area.
Try white oak or walnut.
Cons: Did you see that price?
Tile flooring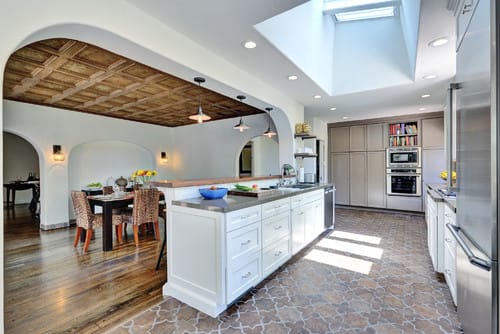 Cost: $4.49 to $19 a square foot
Pros: The epitome of simplicity, tile resists dirt and water and looks good doing it. Besides porcelain, you can choose ceramic, quarry, or marble options.
Cons: It's expensive to install—and you'll probably need a pro to do it right. Don't like cold feet? You'll want to add a radiant heating system to create a warm floor in the winter, suggests Martin.
Laminate flooring
Cost: $2 to $8 a square foot
Pros: Laminate, which includes brands such as Formica, comes in a wide variety of colors and textures. It is scratch-resistant, withstands heavy sunlight, is easy to clean, and is quick to install, even for a DIYer.
Cons: Have a worn area? Laminates can't be sanded or refinished. You'll have to replace it instead. Plus, while you may get laminate flooring that looks like wood, it's not.
Not sure what flooring will fit your kitchen (and budget) best? Many online and brick-and-mortar stores have flooring samples. That way, "you can confirm the product matches the look and feel you're going for," says Tom Schnitzer, director of flooring at Wayfair.
2. Rugs
Once you've got your flooring covered, you need something to accent it. This is especially true if you've chosen a neutral or all-white kitchen. A rug can "add a pop of color and intrigue," says Schnitzer.
Flat weaves are a good choice since they hold their own against foot traffic. For ease of cleaning, consider a cotton rug that you can toss into the washer when it starts looking grimy. You can also hand-wash a rug that's made of natural fibers such as bamboo or sisal.
3. Lighting
"Lighting is critical to the design of a good kitchen," says Cummings. Sure, you could stick with can or recessed lights, but why not think about the following:
Under-cabinet lighting: LED strips or pucks won't replace your main lighting, but they can help get rid of the shadows in your kitchen and give your space a warmer feel.

Toe-kick lighting: An LED strip beneath your bottom cabinets will add some stylish light to the perimeter of your kitchen. Plus, it's a subtle way to provide some safety lights.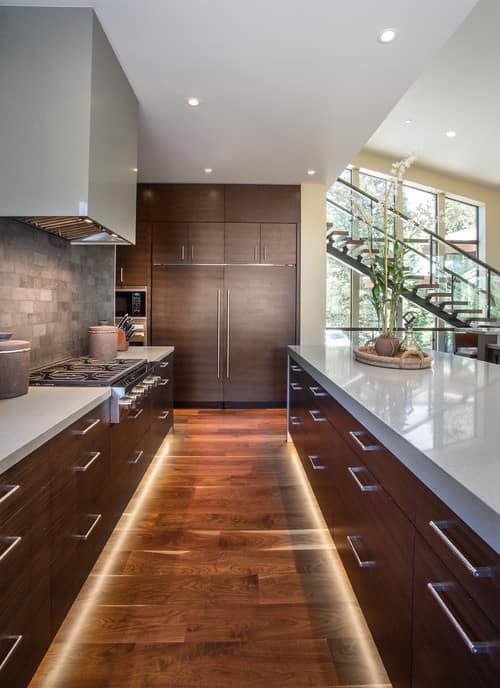 Pendant lighting: Available in a variety of shapes, these hanging lights are great over sinks and islands.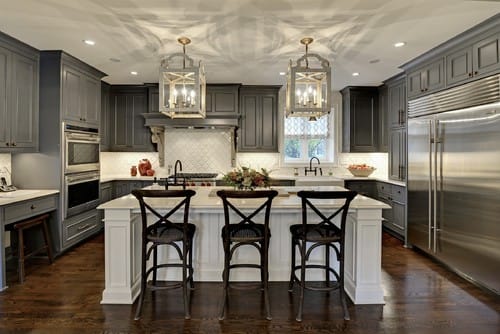 Sconces: Traditional light fixtures affixed to the wall with a bracket, sconces can provide either task or ambient lighting.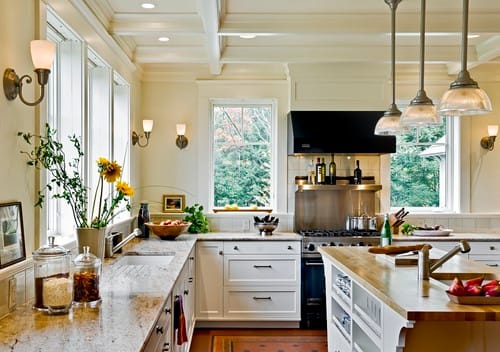 4. Backsplash
Don't settle for counter material to fill that space between your counters and upper cabinets. Backsplashes are big!
"The backsplash is where we have our opportunity to showcase our personalities a little bit," says Cummings. "There's an entire universe of gorgeous backsplash tile out there."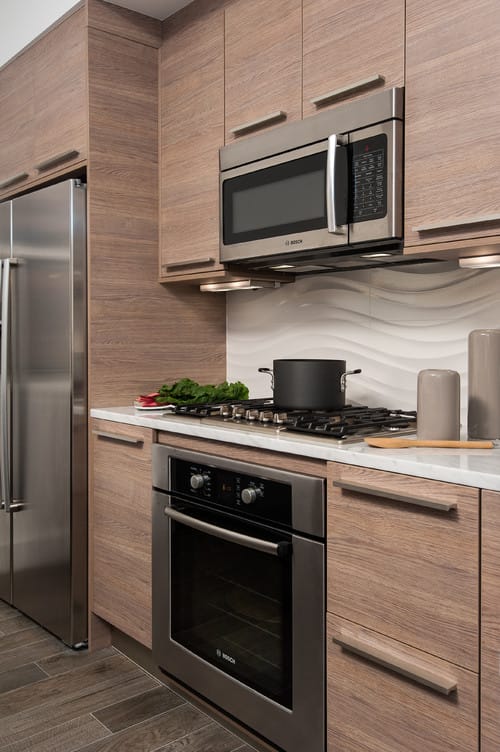 It's a small area that can have a big impact, be it 3D tiles or colorful patterns reminiscent of old Havana hotels. Brick's obviously the natural choice for modern industrial-style kitchens.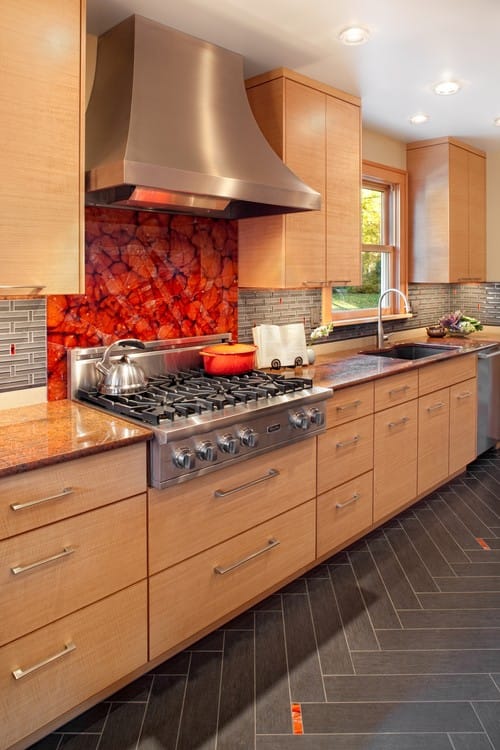 5. Furniture
Didn't opt for a built-in island? Rolling kitchen islands continue to be a hot trend.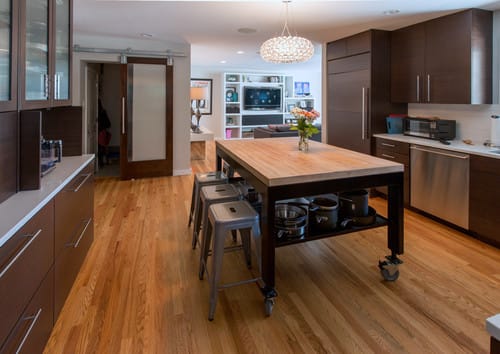 "What's great about a rolling kitchen island is that they're versatile pieces that can be used for cooking and storing and displaying dishware and decorative accents," says Schnitzer. "And since they have wheels, they can easily be moved around the kitchen or dining space."
You'll also need seating that goes beyond your kitchen table, be that a standalone chair, if room allows, or stools at your island, sideboard, or counter.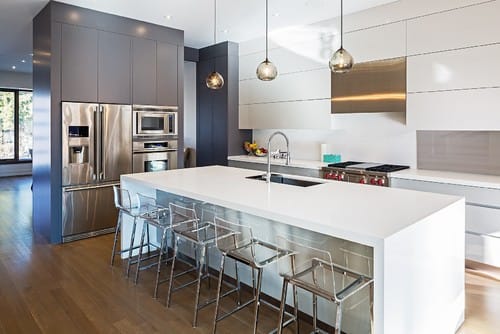 "Eye-catching bar stools are an easy way to jazz up a kitchen and can be easily swapped to match the season or occasion," Schnitzer says.
How to tie these touches together
"If there is something that inspires the theme of your kitchen, take note of its colors and textures and try to incorporate that into the design," suggests Cummings.
Maybe it's the color palette of your favorite dish pattern, or an inherited piece of art.
"Pay attention to the lines of the appliances and the knobs and switches on the range, as they're all styled in different ways, from traditional to modern," Cummings says.