Thanksgiving has had its moment and the Winter Holiday season is now upon us. With this wonderful time of year comes a whirlwind of festive activities and the time to transition from all things fall to bringing out our favorite Holiday decorations: AKA red and green everywhere.
Wait just a minute.
It might sound Grinchy, but we're going to go ahead and say it: We're kinda over the traditional red and green holiday colors. Sure, they're festive. But aren't you ready for something a little less … expected? Plus, red and green don't exactly make for the prettiest palette in the world. It's tough to pull off without veering into sensory overload—how much is too much can quickly escalate into, ow my eyes.
"Red and green is so old school," laments Jeanine Boiko, a real estate agent and blogger at Okio B Designs.
"Thankfully, we're living in a time when, like skirt lengths, just about anything goes with holiday shades," echoes designer Darla DeMorrow.
We know—it can be expensive to swap out the red and green decor you've collected over the years. To ease the burden, consider simple DIY ideas. For example, DeMorrow suggests spray- painting items you already own with a single new shade, or throwing a swap party with friends and family.
Ready to make your holiday decor a little less ho-ho-hum and a little more new winter wonderland? Here are a few new color ideas for this season.
1. Pink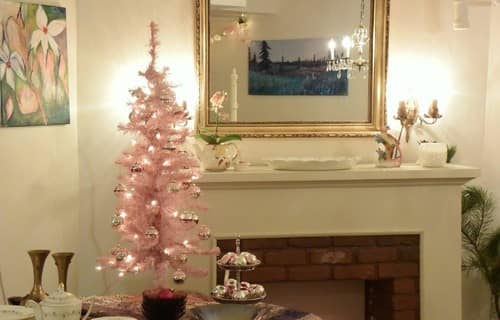 We're a big fan of this soft shade, which can easily up the glam factor in your holiday decor.
"Pink pairs nicely with white—even silver and gold—and it's oh-so-feminine," Boiko says.
To get the look: On your dining room table, try a pink ruffle sheet instead of a regular cloth, and place three or four 12-inch white trees in the middle of the table. Or, as pictured, a small pink tree, decorated lightly with metallic silver balls.
Boiko also adds apothecary jars in different sizes filled with pink, white, and silver ornaments.
2. Bright white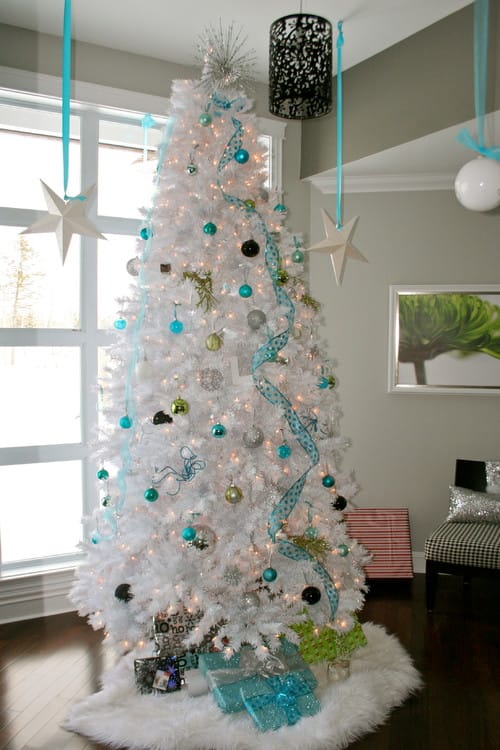 Think white is boring? Jamie Novak, author of "Keep This Toss That," begs to differ. With so many shades and textures, white can be a real standout, she says.
"Plus, because white screams 'wintry,' this decor can be displayed well past the holiday season," she adds.
You might also try a flocked tree for this decor theme, Boiko suggests—one of those that have been sprayed with a fluffy white substance that mimics snow. And fans of contemporary decor could add black accents to a white design for a modern, streamlined look.
3. Purple (and other jewel tones)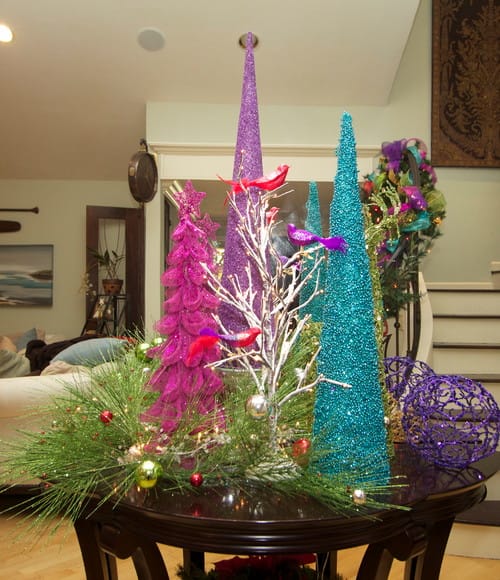 Regal jewel tones, particularly purple, are elegant holiday shades that should get more play (didn't one of the three kings wear amethyst robes?).
Novak combines purple Christmas decorations with white ones and leaves them up all winter. Continue the royal theme with gold accents, including tinsel, ribbons, and sparkling baubles.
4. Metallics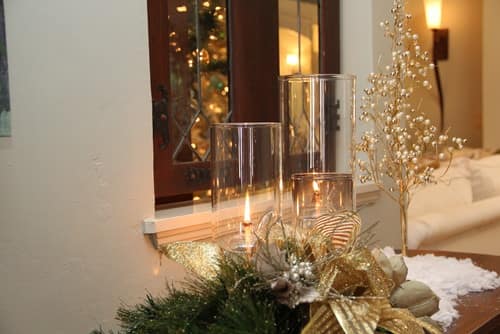 "Silver and gold continue to gain in popularity as go-tos for holiday colors, as they pair well together and can be used on their own," Novak says.
There's another big advantage to metallic holiday decor: You probably already own a lot of it. Think: chrome picture frames, copper candlesticks, and silver serving pieces.
"Bring out formal silver platters and arrange them as decor, or use as chargers with groups of candles on top," she suggests.
You can also hang silver and gold ornaments on a plain tree or weave shiny ribbons through everyday items like baskets and chandeliers for some temporary glam, she adds.
5. Blue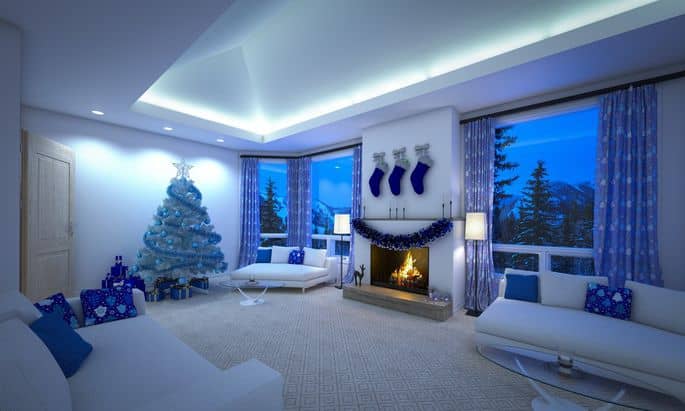 Elvis was weepy when he sang about blue Christmases, but this color will make your home look anything but sad.
Bright blues and icy blues offer a gorgeous contrast with typical holiday decor, and also dovetail with the winter weather—and pair beautifully with silver accents.
Opt for a blue spruce tree, which is technically still green but "can have a definite blue cast," DeMorrow suggests. Or, for a quick solution, find a blue flocked tree in a big-box store.
6. Natural and neutral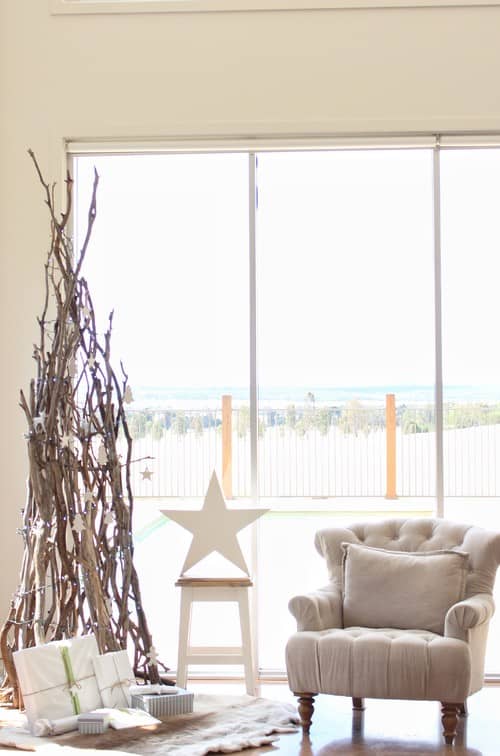 OK, this one is more of a look, rather than a color. But unless you've been hiding under a rock, you know that all things natural are trending right now (thank you, Scandinavians!)
And it's easy to keep that decor scheme going into the holidays: Tree branches, feathers, antlers, woodland animals, faux birds, fluffy sheepskin rugs, and other natural elements channel a low-key, but comfortable vibe during the busy holiday season. Throw in some fairy lights and you'll have a Nordic winter wonderland.
Now that you've seen it, get out there and get out of your, color, comfort zone.
*Information provided by realtor.com