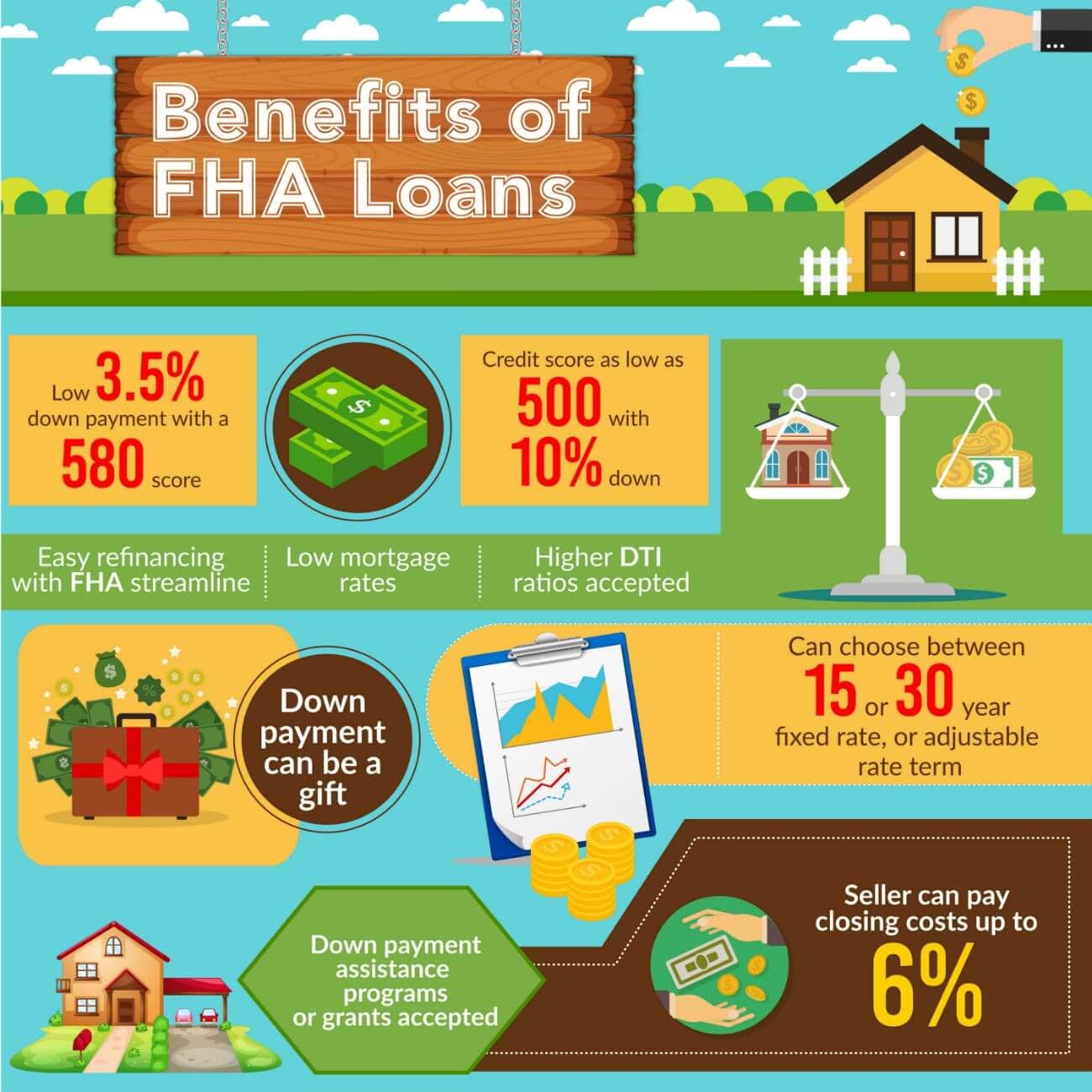 If you've started shopping for a home, you've also begun shopping for a home loan, at least I hope you have. With 6 options to choose from, it makes sense to do your research to not only find the loan you qualify for but also the loan that will best suit your needs. Today we're going to talk about FHA loans.
What is an FHA loan? Simply put, an FHA loan is a mortgage that is backed by the Federal Housing Administration. The FHA came about in 1934 during the Great Depression in response to the rise in foreclosures. It was primarily formed to stimulate the housing market through increasing home construction, decreasing unemployment and running a variety of loan insurance programs.
The above infographic touches on some of the benefits of an FHA Loan:
*Smaller down payment. Most conventional loans require a buyer to put down 20 percent versus the 3.5 percent of an FHA loan, making it easier to qualify for. The down payment can also be a gift instead of coming from your savings or from the sale of another home. This makes this particular loan very popular with first time buyers.
*Lower than average credit scores are accepted. If your FICO credit score is a minimum of 580, you are eligible for an FHA loan with the 3.5 percent down payment. Frowning because your credit score isn't quite at 580? There's still hope! FICO credit scores from 500-579 are still accepted for an FHA but the down payment is slightly higher at 10%.
*You are allowed to carry more debt: Higher debt-to-income ratios are accepted with FHA loans. The FHA allows borrowers to spend up to 56 percent or 57 percent of their income on monthly debt obligations where as conventional mortgage regulations allow a debt-to-income ratio at around 43 percent.
*Potentially lower interest rate: With an FHA, the government is backing the loan, essentially reducing their risk of losing money if the loan is defaulted on by the borrower. Therefore, you could end up with a better interest rate for your home loan, which saves you money in the long run.
*Can choose between 15 or 30 year fixed rate or adjustable rate term. You have options!
*Down payment assistance programs or grants accepted. Having trouble coming up with the 3.5 percent? There are ways to help!
*Seller can pay closing costs up to 6 percent. Many times, buyers forget or are uninformed when it comes to closing costs. Having to come up with extra thousands of dollars can throw quite a wrench in buying your home. Ask me how to get your closing costs covered!
As there are with all types of loans, the FHA has limitations and guidelines. Should you be leaning towards an FHA loan, we can discuss all the information in detail when you contact me to help you get started on the loan application process. In my next blog, we will discuss conventional loans. Stay tuned!
Warmly,
Kristi Harden
*If you have any questions, please contact me, Kristi Harden, at 951.704.6370 or kristi@kristihardenrealestate.com