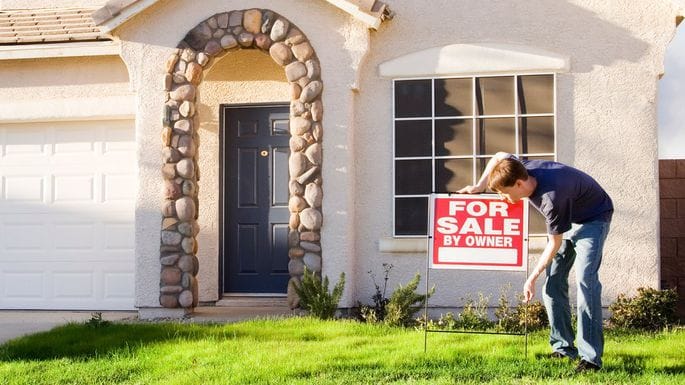 Going the "For Sale by Owner" route is a tempting alternative to hiring a real estate agent to sell your home. After all, listing agents charge a commission for their work that can eat into your own profits. So why not try to save money by selling your home yourself?
Here's why: There are some major risks with going FSBO, from a lower sales price to landing in legal hot water. So before you pursue this DIY route, here's a warning of some of the bad things you might encounter when you attempt a FSBO arrangement.
1. Your listing won't be seen by many buyers
One key thing a real estate agent will do for you is create an eye-catching ad for your home, with attractive photos and a winning description that will reel in buyers (by, say, playing up those hardwood floors and granite countertops). Sure, you can probably cobble together your own ad, but there's one thing you absolutely can't do if you go FSBO: Post that ad on the multiple listing service.
Real estate agents pay to put their listings on the MLS, which is then distributed far and wide, including to sites such as realtor.com®. Which is great, since that way you know your home can be seen by thousands of potential buyers and their agents. With FSBO, however, your home won't go on the MLS; instead, it'll go on sites that cater to FSBO listings, which get far less traffic.
"There are thousands of agents trying to sell your house when it's on the MLS, but when you do it alone, only one person is trying to sell your house—you," notes Realtor® Denise Briez with Pro100 in Neosho, MO.
2. Your home could sell for a much lower price
Pricing a home can be far more challenging than most newbies assume. The majority of sellers price their home based on emotions, or what they hope it should sell for in some dreamy best-case scenario.
"Often the seller is too personally invested in the situation and too close to be objective," says John Powell, chief development officer at Help-U-Sell Real Estate in Tucson, AZ.
But buyers want a bargain, and they know when a place is overpriced. As such, listings with bloated prices tend to sit—and sit—on the market. Even if you eventually lower the price, buyers are likely to wonder at that point if there's something wrong with your house since it's languished on the market so long.
A real estate agent, by contrast, will provide an accurate home value based on a solid market analysis, plus serve as a buffer between you and buyers to facilitate successful negotiations and a resolution both parties can live with. This, in turn, means you can earn top dollar for your home—which means your agent will likely earn every penny he's paid.
3. You could run into legal trouble
Selling a home is fraught with legal pitfalls that only a real estate agent will know. As such, when you choose the FSBO route, you could do something that skirts the law but not even know it.
"There are a lot of potential legal problems that can arise during home selling," says David Welch, a Realtor with Re/Max 200 Realty in Winter Park, FL. "I would say disclosure requirements may be your most likely issue. Most states, maybe all of them, have requirements involving seller's disclosure of defects in the property."
Disclosure requirements vary by state, but might include information on lead-based paint, nearby environmental hazards or sex offenders, and even whether someone died in the house. If you know of such info but keep mum, you could be committing a prosecutable offense and have one highly irate buyer on your hands to boot.
4. You might end up with a buyer who doesn't pan out
Even if your FSBO listing gets an offer that you accept, you're not out of the woods quite yet. For one, buyers fall through or back out for all sorts of reasons. For instance, you might inadvertently choose a buyer who can't get a loan, which means you'll have to start back at square one.
A real estate agent will be your ally in confirming a buyer is pre-approved for the correct loan amount, and then will ensure there is an airtight contract in place so the entire process will proceed smoothly.
Due to the risks of FSBO homes, many sellers eventually realize they can't afford to not hire a real estate agent. So make sure to weigh the FSBO trade-offs against your money, time, and peace of mind.
If you have any questions or want more information, get in contact with me TODAY at 951.704.6370 or Kristi@KristiHardenRealEstate.com
*Information provided by kcm.com