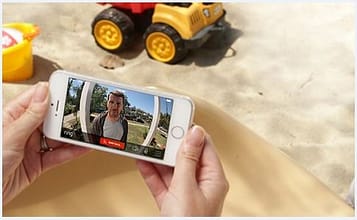 Picture it: someone rings your door bell and you answer — by video.
No need to get up from the couch or peek out the window because you don't answer the door unless you expect company. In fact, you don't even need to be home. Answer your door from the comfort of anywhere and via your smartphone, tablet or computer with the Ring video doorbell ($199).
Is this the ultimate in laziness? No! The smart doorbell is just another way to protect your home — and your family — from burglaries with smart home tech. Ring is easy to use: simply install the video doorbell, connect it to your home's Wi-Fi and install the app on your smartphone, tablet or computer and you're set to welcome guests or scare off would-be burglars and other unwanted guests.
A Smart Doorbell
The doorbell has built-in motion sensors will send mobile alerts when it senses movement around your home. You can then see and speak with whoever is causing the alert (maybe it's just a raccoon, so you can safely yell at it to scram). If it's a delivery person, you can simply ask them to leave the package in a hidden spot (and ultimately, verify that the package was indeed delivered). If it's unexpected company — particularly at night — you can safely verify that it's someone you know and want to allow into your home. And, if it's a would-be burglar, you can scare them off by answering virtually or fool them into thinking you're inside — even if you're at work or out shopping. If they're still persistent about getting into your home, the app will record a video of the person, so you'll at least be able to give this to police to help catch thieves.
Ring provides 720p HD video, a built-in rechargeable battery, night vision and lifetime purchase protection. Separate accessories for the Ring video doorbell system include a stick up cam, which you can put on your back or side entrance for enhanced security around your homes perimeter and Chime, a chime that lets you know when someone's at the door, even if you're phone is in another room. Ring works with many smart locks and smart home devices, including Kwikset's Kevo, Lockstate smartlocks and wink.
Across the country, the Ring video doorbell has been credited with thwarting would-be burglars and catching package thieves (and even reuniting families with lost pets), making the investment well worth the money in order to protect your family and home and to provide peace of mind when you are home — and especially when you are away.