When you think of movie castles, sinister mansions, spy houses, and remote buildings there are very specific visions that come to mind. These buildings typically have certain aspects and facets that you wouldn't see in the average suburban home. Perhaps one of the most fantastical and creative design elements connected with these mysterious buildings would be the secret rooms and hidden entrances. However, something that most people are not privy to is the fact that with the right designer and architect, you can have your very own secret room installed in your house!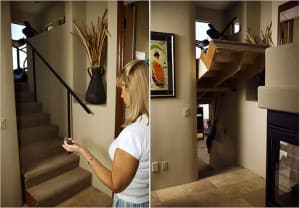 There are companies or contractors who are eager to meet your expectations that can be hired to design and build a secret passage way/room into your existing property. With a few exceptions; the entrance mechanism, placement, and room interior is limited only to your imagination! There are such fun and creative ways to turn this secret passage way into whatever your heart desires. Some unique and interesting ideas for the opening mechanism are playing certain notes on a piano, moving certain chess pieces into a specific pattern, pulling out a selected book from a bookshelf, or touching the correct spot on a wall. In addition to what opens the door, you can also customize the way the door opens. Doors can swing inward, outward, upward, slide into the wall; just about any possibility that you can think of to create your vision.
Behind the secret door will be your room that you can use for whatever you choose. Some people use their secret room for an office to get away from pesky interruptions, a safe room for protection, a fantastical play room for children, home theaters, wine cellars, and more.
If you ever decide to sell your home, a secret room can do a lot to add to your asking price. In addition to the creativity and unique quality that it adds to the home, it also adds square mileage which is added value for potential home buyers.
Prices vary depending on many factors and the only real way to get a solid estimate would be to meet with a designer or architect that is familiar with these accommodations and have an open discussion about what you are looking for. A starting point for most companies would be somewhere around $5,000 for the most basic of set ups and then goes up from there. With the right company and the right money, your secret room can be designed to fit every idea from your creativity and imagination.