In school we all learned about this main principle of business: Items sell best when the demand is high and the supply is low. This ideal is true for all business dealings. As you may have guessed, real estate is no exception.
As the 2015 data on housing market trends begins to come in, many sources are all saying one thing. If you are thinking of selling your house, NOW is the time to do it! Although there was a lull in home sales last month, the numbers are still exponentially larger than a year ago.  The inventory from January of 2014 is over 200,000 sold homes less than January of 2015. That means that listings are closing and homes are being sold at an amazing rate. "One month, big deal" you might think, but January is only one out of five months that have been doing much better than last year at the same time.
A big reason for such great selling success: BUYER DEMAND. More and more buyers have entered the market in search of a new home. In fact, it has skyrocketed to three times more than just last year!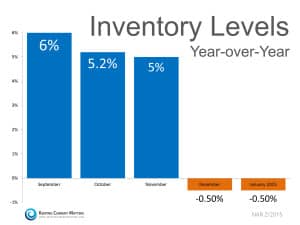 So back to the supply and demand principle…when demand is high what needs to be low in order to sell? That's right, supply. The market conditions are perfect for someone looking to list their property. The number of houses on the market has plummeted! Over the last five months there have been less and less homes for sale with December and January falling at an all time low.
With so many buyers vying for the limited number of homes, it is the best time for sellers to get a great price! If you want to list your home or need a little more information, please feel free to contact me today.