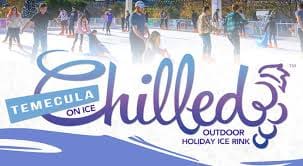 If you have been wanting to lace up and get out on the ice, this is your last chance to do so for two of the rinks! Old Town and Galway Downs end this weekend and Peltzer's rink closes on January 12th!
**Kristi Harden Real Estate is not affiliated with these events. I am strictly passing on information to you should you be interested in the areas local activities. Events are subject to time and date change without notice. Please look into each event and it's details prior to attending at your own discretion.**
Temecula on Ice Skating Rink Through Jan. 5
Enjoy a winter wonderland in Old Town, then hit the streets to get some shopping done!
Time/Place: Sun-Thu 10am-9:30pm, Fri & Sat 10am-11pm / Old Town Temecula, Town Square Park
Contact: https://ice-america.ticketspice.com/temecula-on-ice
Temecula Icefest Through Jan. 6
A holiday event like never before! Ice skating, live music, food & beverage, Santa, fundraisers, a craft fair and TONS of family fun!
Time/Place: 3-10pm / Galway Downs: 38801 Los Corralitos Road
Contact: 951-595-2145 / www.temeculaicefest.com
Peltzer Ice Rink Through Jan. 12th
Open weekdays from 3-9pm and weekends from 1:30-9pm
⛸️ Session Times: weekdays at 3pm, 4:30pm, 6pm, 7:30pm and weekends at 1:30pm, 3pm, 4:30pm, 6pm, 7:30pm
🍷 Ice Rink Bar will be open for drinks Wednesdays + Fridays – Sundays 3- 8:30pm
☕ Hot chocolate and treats will be available for purchase from the snack bar.
40275 Calle Contento, Temecula, CA 92591
Special Event at Peltzer on Sunday, January 5th:
Peltzer – Skate with the Ice Queen
Let it go on the ice with your two favorite frosty ladies! The Ice Queen and the Snow Princess are comin' back to the Peltzer Ice Rink for skating and photo ops from 3-6pm, January 5th.
To purchase your skate session with the Ice Queen and Snow Princess, visit the ticket link provided, select your correct session type, then choose the January 5th date at either 3:00pm or 4:30pm.
Don't forget to add your skate rental located on the ticket page!
MORE DETAILS
🧁 The Sweet Apron | 3-5pm
🍕 WoodFire Pizza Wagon | 3-9pm
🍔 Devilicious Food Truck | 3-9pm
🍿 Cali Kettle Corn | 1:30-9pm
🍷 Ice Rink Bar | 1:30-8:30pm
❄️ Ice Rink Hours | 1:30-9pm
https://peltzerfamilycellars.orderport.net/merchandise/ticketed-events?fbclid=IwAR0QgfV5uAiA8qf2fXonqi0scyb9pUn3AgzhPnq-bSoV5v4poVFeLi4hj3c
Have a blast and be careful on that ice!
Warmly,
Kristi Harden