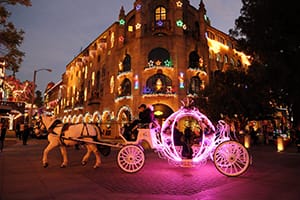 The holiday season blew past us all in a blur and if you didn't make it down to see the wonder of The Festival of Lights at the Mission Inn and Spa in Riverside, do not despair because you still have time! Today and tomorrow January 5th will be the last days to enjoy the last bit of the holidays that they have to offer. And my goodness do they have a lot.
You see, it's not just the gorgeous displays of lights but the entire atmosphere at and around the hotel has been transformed into Riverside's very own winter wonderland. This is the Mission Inn and Spa's 26th year of putting on this event that has grown to be a cherished and much anticipated tradition by residents and visitors alike. The festival is gift to the community from property owners Duane and Kelly Roberts, who saved the hotel from destruction in 1992. Located at 3649 Mission Inn Avenue in Riverside, it includes over 5 million lights, 200 animated figures including angels, elves and Dickens carolers, the world's largest man-made mistletoe, sugar plum walk way, elf tuck-ins, freshly fallen snow, elaborately decorated Christmas trees and that's just at the hotel itself.
Surrounding the hotel in the heart of downtown Riverside you'll find:
Live Entertainment
Horse and Light Up Carriage Rides
A Colorful Vintage Carousel
Giant Ferris Wheel
Trackless Train Rides
Gift Box Bouncer
Plus many amazing restaurants, shops and street vendors for your dining and shopping pleasures!
It's a great way to squeeze in a little bit more of that holiday magic with family/friends at an event that was recently named "Best Public Holiday Lights Display in the Nation" by USA Today. See it before it's gone until next year!