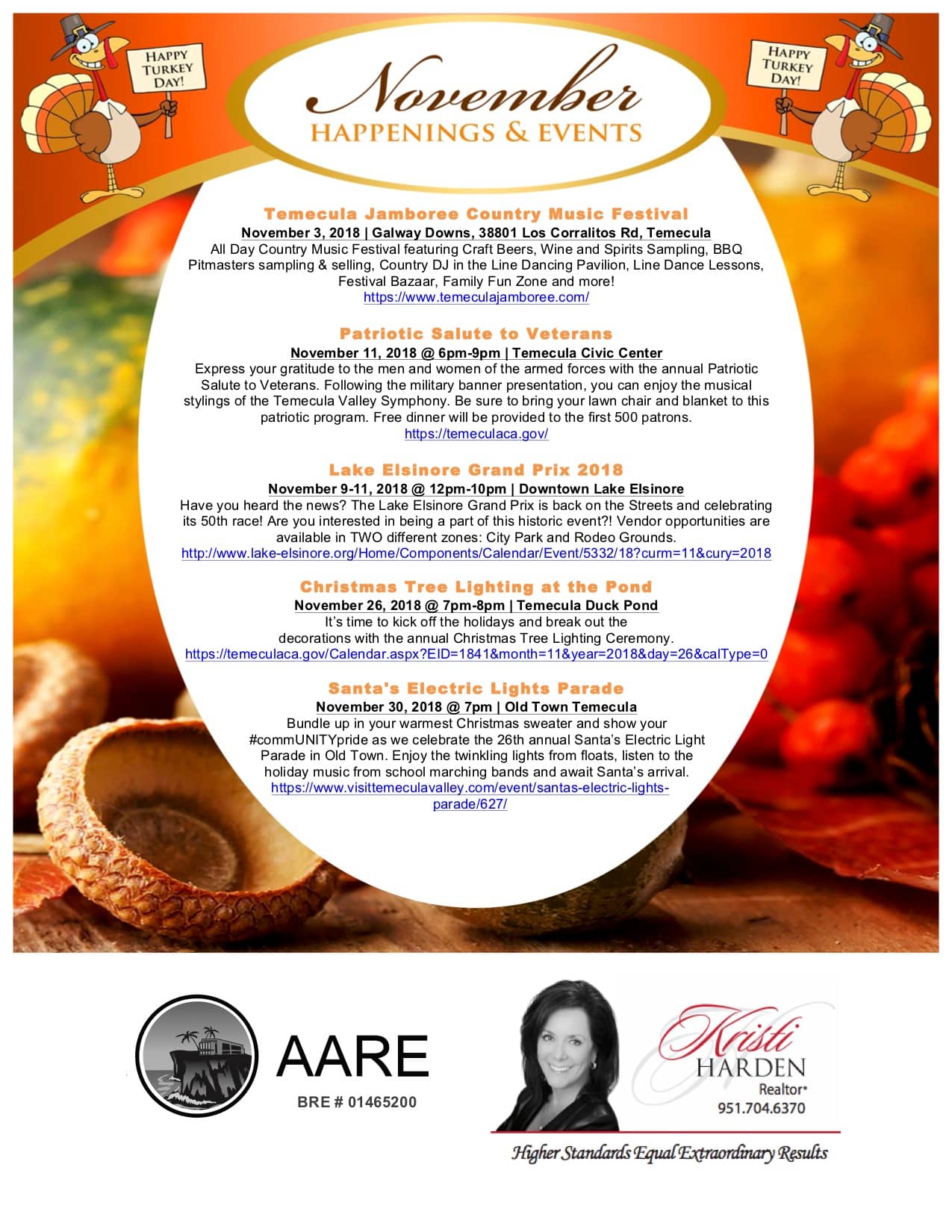 Temecula Jamboree Country Music Festival
November 3, 2018 | Galway Downs, 38801 Los Corralitos Rd, Temecula
All Day Country Music Festival featuring Craft Beers, Wine and Spirits Sampling, BBQ Pitmasters sampling & selling, Country DJ in the Line Dancing Pavilion, Line Dance Lessons, Festival Bazaar, Family Fun Zone and more!
https://www.temeculajamboree.com/
Patriotic Salute to Veterans
November 11, 2018 @ 6pm-9pm | Temecula Civic Center
Express your gratitude to the men and women of the armed forces with the annual Patriotic Salute to Veterans. Following the military banner presentation, you can enjoy the musical stylings of the Temecula Valley Symphony. Be sure to bring your lawn chair and blanket to this patriotic program. Free dinner will be provided to the first 500 patrons.
https://temeculaca.gov/
Lake Elsinore Grand Prix 2018
November 9-11, 2018 @ 12pm-10pm | Downtown Lake Elsinore
Have you heard the news? The Lake Elsinore Grand Prix is back on the Streets and celebrating its 50th race! Are you interested in being a part of this historic event?! Vendor opportunities are available in TWO different zones: City Park and Rodeo Grounds.
http://www.lake-elsinore.org/Home/Components/Calendar/Event/5332/18?curm=11&cury=2018
Christmas Tree Lighting at the Pond
November 26, 2018 @ 7pm-8pm | Temecula Duck Pond
It's time to kick off the holidays and break out the
decorations with the annual Christmas Tree Lighting Ceremony.
https://temeculaca.gov/Calendar.aspx?EID=1841&month=11&year=2018&day=26&calType=0
Santa's Electric Lights Parade
November 30, 2018 @ 7pm | Old Town Temecula
Bundle up in your warmest Christmas sweater and show your #commUNITYpride as we celebrate the 26th annual Santa's Electric Light Parade in Old Town. Enjoy the twinkling lights from floats, listen to the holiday music from school marching bands and await Santa's arrival.
https://www.visittemeculavalley.com/event/santas-electric-lights-parade/627/