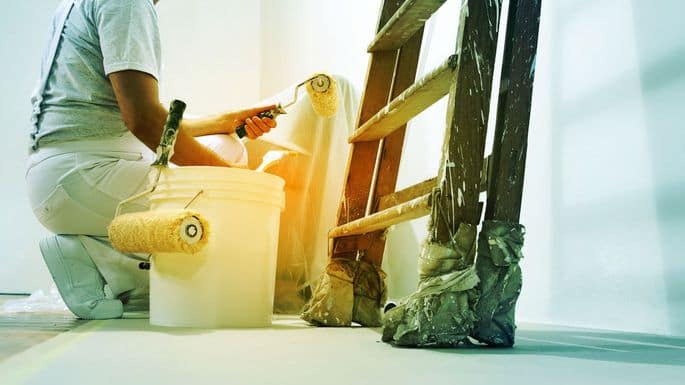 Savvy homeowners are always on the lookout for ways to boost their property's resale value. If you're not living in your forever home and plan to sell in the future, a renovation can make a big impact on your home's worth.
While the thrill of buying a fixer-upper might appeal to some folks, the reality is that taking on lengthy, backbreaking projects—like overhauling the kitchen or bathroom—is not everyone's cup of tea.
"People buying may not have the greatest imagination, and they want to walk into something that's turnkey," says Sandy Scheinman, a real estate salesperson at Douglas Elliman Real Estate in New York City. "In a competitive market, offering a home that looks renovated and new is really what you need to do to compete."
So if you do plan to put your home on the market, updating decades-old countertops will look good in the eyes of prospective buyers and let them know you're serious about selling. Even less expensive modifications can go far—don't underestimate the power of a few new coats of paint!
But just how big of an impact will refurbishment projects make? Read on.
How much can renovations boost your resale value?
Determining the monetary value that renovations will add to your home is all based on the types of improvements that are done. Obviously, new paint on the walls will have a very different impact than a spare bedroom addition above the garage. But Scheinman estimates renovations can often increase the home's value by 10% to 12%. Not too shabby!
Design with buyers in mind
If you're planning to renovate with the intention of selling your home in the near future, it's wise to opt for designs that are universally flattering. Remember, you're transforming your home for the most general appeal. While you might be tempted to install a sliding barn door in the master bedroom, not all buyers are into the rustic look.
"If you are doing the renovations for resale, choose the types of fixtures and styles that will appeal to your target audience," says Michele Morrison, a real estate agent with the Sereno Group in Los Altos, CA. "Don't build your dream home if it's not for you."
The following popular projects are proven to appeal to buyers and increase your home's resale value. Curious how much each project will cost or how long it'll take to complete? That's all included below.
Paint a room
Approximate price: $200 to $400
Project duration: One day
Updating walls with a neutral color like a white or warm gray won't cost much and gives the home a fresh feel. Painting a room or rooms yourself can cost you less than $200. All you need are paint and supplies.
If you hire a painter, it's a good idea to do more than one room, so you get more bang for your buck, recommends Laura Sears of Laura Sears Interiors in Canton, GA.
Hiring a painter for one room will cost around $400; expect to pay more if you need extra work done such as drywall repair.
Make sure the color you choose for the walls is neutral and not a polarizing color. Eggplant might be your favorite paint color, but it might affect prospective home buyers' ability to envision themselves in your home.
Crown molding
Approximate price: $300 to $500 per room
Project duration: A few days
Crown molding is a small flourish that will improve a room's look and could lead to a better sale price, according to Richard McMurray, owner of DFW Crown Moulding in Fort Worth, TX.
This finish, typically made of wood, can be added to the top edge of walls, door frames, or cabinets to add a distinctive, classy look. Painting, prep, and installation won't take more than a few days, so you don't have to commit a lot of time to this renovation project.
"This renovation increases value by setting the home apart from other comparable homes in the area," says McMurray.
Crown molding can also be used to cover problem areas on walls and around windows and doors.
Bathroom makeover
Approximate price: $35,000 to $65,000-plus
Project duration: Three weeks to three months (depending on inspections)
Bathrooms were once small rooms that served a family's basic needs—and that was about it. Now, bathrooms are a home's grand showcase.
Tiny, prewar bathrooms are a turnoff for today's buyers, according to Liza Nematnejad, a real estate agent at Douglas Elliman Real Estate in New York City. People want large bathrooms with a soaking tub and natural light.
"We're seeing a trend where people are expanding the size of the bathrooms and having his-and-her showers. It's more of a room than what it was in the past," Nematnejad says.
Extra bells and whistles like heated floors or a whirlpool bath may give you an advantage in a red-hot real estate market, but remember to keep an eye on your budget and other homes you're competing against. In other words, don't invest $100,000 in a bathroom renovation when homes in your neighborhood go for only $200,000.
If you want to update your bathroom but don't have a large budget, Sears says, you can invest in smaller upgrades. Some buyer-pleasing ideas include replacing a linoleum floor with tiles, painting the vanity, installing a new sink and faucet, and putting in new lights.
Kitchen renovation
Approximate price: $65,000 to $100,000-plus
Project duration: Six weeks to three months
Believe it or not, kitchens were once secondary for buyers. Beautiful, spacious living rooms and dining rooms were what buyers coveted. Kitchens were simply a place to cook.
Scheinman says homeowners now see kitchens as another living area. They're a place to entertain, and eat-in kitchens are popular with buyers.
Nematnejad says high-end appliances, marble countertops, and even wine rooms are kitchen amenities that are likely to pay off. Across the board, home buyers are going to be impressed by plenty of counter space and shelving.
Robert LaFleur, owner of Building Professional in Westford, MA, says a major kitchen remodel can usually recoup about 65% of costs. So, even though you might pay $75,000 for a major kitchen renovation, you will make back a lot of that on the sale of the home.
"The more you put into [a kitchen renovation], the higher the resale cost recouped percentage is going to be," says LaFleur.
If you have any questions or want more information, get in contact with me TODAY at 951.704.6370 or Kristi@KristiHardenRealEstate.com
*Information provided by realtor.com