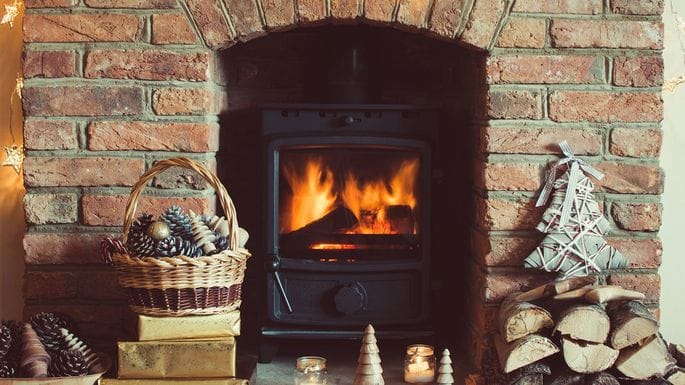 When most people think of prime selling time, winter most defintely is not the season that comes to mind. It's cold, it's dreary, and no one wants to be out and about looking for a new house. Most of us are just trying to squeak by into the New Year amidst the joyful chaos that is this time of year. But sometimes, selling is plain ole unavoidable.
Even though we might not think of winter as being a great time to sell, it can actually turn out to be just that. Since most people decide to wait until spring time to put their house on the market, you'll find it way less competitive. And with this, it becomes easier for your home to shine. And shine it will with these simple house staging tips.
1. When it doubt, make it look pretty out
Home maintenance isn't just an indoor job. The outside of your home is the first thing a buyer sees when they pull up and just like with people, first impressions matter.
The addition of some winter-themed outdoor decor is sure to be a beautiful and eye catching way to show off how nice the porch looks at this time of year.
"I love putting evergreens next to the door and on the porch," says Rebekah Scott, real estate broker for Atlas Real Estate Group in Denver, CO.
Also, If you can, now's also the time to make sure your front door has a fresh coat of paint. Trust me, it matters.
2. Make it warm
Most homeowners try to save on utility bills in every season. Winter is no different. But in keeping that thermostat down during showings, you could be causing a potential buyer to think that your home is hard to heat.
"A cold house can hurt the sale," explains Scott. "When a buyer enters the house and wants to hurry up and get out of there because it is so chilly, it probably means they are going to have a bad memory associated with the home, no matter how great it is. You want to provide a warm and inviting environment so buyers will want to take their time and linger. "
To make buyers feel right at home, turn up that thermostat. Also, any drafty spots there may be around the house will need to be fixed as well. No one wants to feel a rogue breeze wafting through as they consider buying your home.
3. Light up the fireplace
Stoking up the fireplace not only helps keep the house warm but it's a simple and great way to showcase this feature of your home.
"I love when a home has a fireplace, and I can highlight that feature by turning it on during open houses," says Scott. Whether it's wood-burning or you have gas logs in that fireplace, by lighting that fire, you're giving potential buyers a window into what it would be like to cuddle on the couch with a cup of hot cocoa and their feet in front of the fire.
"Hitting all of the buyer's senses creates a memorable experience that will hopefully lead to them purchasing the home," she adds.
4. The smell(s) of the season
Cleaning your house is a must, thats a no brainer seeing as how no one wants to buy a house that is dirty and stinks, but the winter season is a time to when you get to bring out all the amazing seasonal scents rather than banking on that so fresh and so clean smell, Scott says. That means mulling seasonal spices such as oranges, cloves, and cinnamon on the stove, or maybe some freshly baked holiday cookies cooling on a rack in the kitchen. Definitely gives it something extra, eh Elle Woods?
Got music? Scott suggests some smooth jazz to really evoke the sense of the festiveness of holiday entertaining.
It's not a bad idea to have hot coffee on hand, says Dale Schaechterle, broker/owner at Realty Executives Integrity in Milwaukee, WI. Not only will it cut the cold, but it can boost the mood of potential buyers. I mean, caffeine always puts me in a good mood.
5. Ramp up that holiday decor
You don't want to turn your home into the real-life version of Clark Griswold's over-the-top house in "National Lampoon's Christmas Vacation," but Aaron Bowman, of Mazz Real Estate in Tolland, CT, says the holidays can actually make it easier to sell a home, if you decorate well.
"The main reason is that buyers like to picture themselves in the home hosting holiday get-togethers, and it's much easier to show them the potential of a house when it's decorated for the winter months," he says.
He recommends a big wreath with a bright red bow on the front door and some (electric or battery-operated) candles in the windows. Avoid blow-up lawn decorations or anything over-the-top or garish inside and out, favoring the sort of classic decor you'd expect to see on a greeting card.
As you can see, winter can be a successful time to sell your home. What are you waiting for?
*If you have any questions or want more information, get in contact with me TODAY at 951.704.6370 or kristi@kristihardenrealestate.com
*Information provided by realtor.com