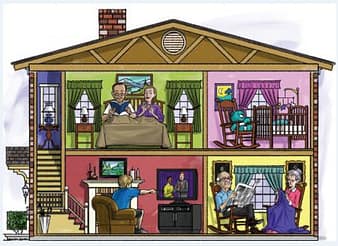 The term multigenerational living refers to at least three generations under the same roof, though homes designed for two generations are often tagged that way.
The return to multigen living has been recession driven. 57 million Americans now live in some sort of multigen household. Baby boomers are seeing the return of their children along with their aging parents. According to Pew Research, a large number of college graduates are moving back k home – roughly one in four (23.6%) In addition, the influx of Asian and Latino immigrants, whose cultures emphasizes this style of living, has sparked this trend.
Of course, several generations living under one roof can be challenging, but there are benefits too: child care, sharing chores and expenses, and the lost tradition of children learning from their elders. For those with elderly parents, peace of mind is a huge factor in choosing this lifestyle. They know that their parents are well cared for, safe and never lonely.
A recent study by Oxford University found that teenagers are happier when grandparents are involved in their upbringing. The study showed that teens who spent more quality time with a grandparent had fewer emotional and behavioral problems than their peers. They were also better prepared to handle life's disappointments such as divorce, death, or even bullying. A Boston college study found that both adult grandchildren and their grandparents showed fewer symptoms of depression if they maintained an emotionally close relationship.
Builders are designing multigenerational homes that are relevant to today's buyers. They realize that the top concern for designing this type of home is creating privacy. Shared living spaces and kitchens don't pose a problem to everyone but the proper placement of bedrooms and baths are essential. Some designs builders offer are:
Private courtyards.
Guest suites or casitas that are accessible through a courtyard which are separate from the main home.
Flex rooms that can be customized to become a home theatre, office or additional guest suite.
Oversized laundry rooms.
Expansive living areas in the main house.
Studio over the garage for college age kids.
In-law suites with separate kitchen areas.
Additional wings for another branch of the family including an adult suite, lounge, study and adjoining kids suites.