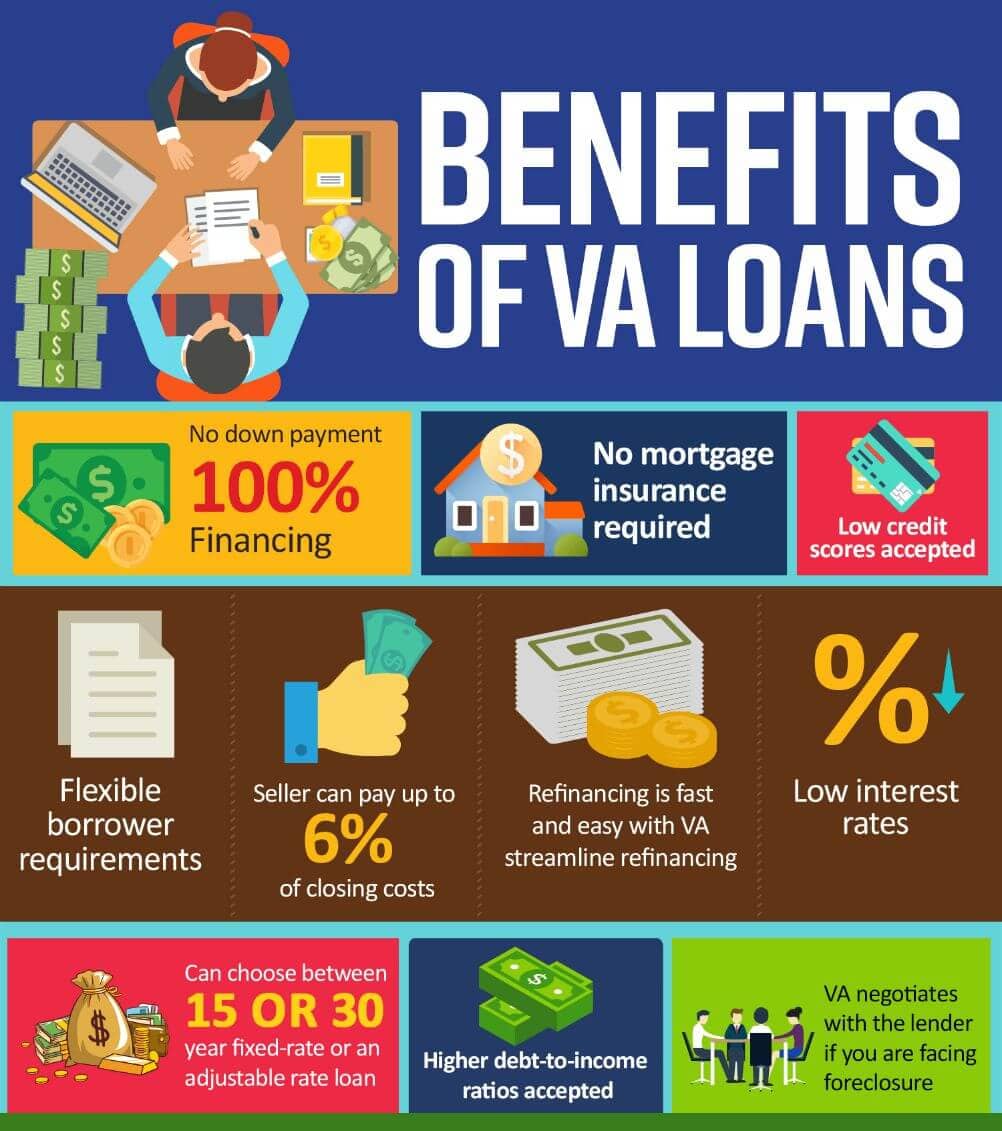 Last week we began discussing shopping for and researching home loan options. During this discussion, we learned about one of the six types of loans that are used to purchase a home, the FHA. I had planned on introducing conventional loans but decided instead to go with a loan for those near and dear to my heart. Today, we are going to talk about VA Loans: what it is, who qualifies for one and the major benefits and perks that come with it.
If you have served or are currently serving in the military, not only do I thank you wholeheartedly for your service, I also want to inform you that you have an option for home financing that millions of other people do not: a VA loan. introduced as part of the G.I. Bill in 1944, this particular type of loan is guaranteed by the United States Department of Veteran's Affairs (The VA) and was enacted to ensure and supply home financing to our veterans, active duty service members and widowed military spouses.
I have included the above infographic and will now go over some highlights from it.
*No down payment: No your eyes are not deceiving you! In most cases, a down payment is not required, enabling you to finance 100 percent of the loan.
*No monthly mortgage insurance: Usually, no or a low down payment comes with mortgage insurance premiums or PMIs that can cost you hundreds of dollars EACH month. With a VA loan, these insurances are not needed.
*Lower credit scores do not make you ineligible: Don't let your credit score hold you back from applying, there is no pass or fail number here. A minimum credit score is not necessary to qualify.
*Flexible borrower requirements: There aren't any limits to the amount of money you may borrow for your loan, only a limitation on how much liability the VA will accept the risk for.
*Seller pays up to 6% of closing costs: Sellers can pay all or most of the buyers (that's you!) closing costs. Or, we work with a trusted lender who can offset closing costs if a seller is not in a position to do so.
*Two refinancing options make refinancing your home easier: The VA loan program allows homeowners with existing VA loans the option to lower their monthly payment with a new interest rate. If you did not use a VA loan when purchasing your home, eligible homeowners can refinance into the VA loan program.
*Low interest rates: VA loans have the lowest average interest rates of all loan types. it's backed by the VA so private institutions lending the money feel more secure doing so. Having a low interest rate saves you so much money and can allow to pay off your home quicker by having more money going straight to principal rather than the interest on the loan.
*Can choose between 15 or 30 year fixed rate or adjustable rate term. You have options!
*You are allowed to carry more debt: Higher debt-to-income ratios are accepted with VA loans. Veteran's have been known to be approved with a DTI of up to 80%, if there are other factors that strengthen their loan application.
*Foreclosure advocacy: The VA will help you negotiate with lenders if you find yourself facing foreclosure.
As there are with all types of loans, the VA has limitations and guidelines. Should you be leaning towards a VA loan, we can discuss all the information in detail when you contact me to help you get started on the loan application process. I'll see you next week when we talk about conventional loans!
Warmly,
Kristi Harden
*If you have any questions, please contact me, Kristi Harden, at 951.704.6370 or kristi@kristihardenrealestate.com